Piaget reference 908 C4: Old School Elegance For The Modern Day Gentleman
In life, one can follow the herd or walk to their own beat. The (gentle)men who associate with the latter, and there is fortunately an increasing number of them, often also have a style of their own. They don't need a major fashion brand or leading magazine to tell them what to wear, they have already honed their own style and know what works for them, and what doesn't. Thanks to these people, traditional tailoring is getting a new impulse, classic craftsmanship is in demand again, and there is a fresh look at all things vintage.
A classic cornerstone
Vintage is this Piaget reference 908 C4 for sure. It was crafted in the brands' manufacture in the 1970s, which makes that it has already seen half a century of history pass by. What is perhaps most surprising is that it doesn't look the part, or in fact, maybe it does. It has a sense of refinement that is rare in watches these days. This starts with its modest size of 23 x 29mm. While not too long ago, the vast majority of men would have dubbed this a ladies' watch, many now realize that it is not size that matters, but wrist presence. Of that, this Piaget has plenty.
This is mainly due to a decorating technique that played a very important role in the history of Piaget, particularly from the 1950s till mid-1980s: Clous de Paris. Consisting out of tiny pyramids in neat rows, this watch is all about it, featuring it on the bezel, dial, and even the sides of the case. As Piaget is a jeweler at heart, they knew not to go overboard and kept the lugs clean with a satin-brushed finish. They also kept a strip of white gold bare, where the bezel meets the side of the case, cut it at an angle, and gave it a high polish. Even the faintest shimmer of light now highlights the strong profile of the watch and naturally draws your eye to it. 
Clous de Paris is a very traditional and demanding decorating technique. To create it, one needs a so-called rose engine lathe and a very steady hand capable of applying very subtle changes in pressure in a consistent way. The result is almost industrial, especially with this reference 908 C4, crafted from white old and offering a minimum of distractions. At Piaget, they were also very keen on the practical side of their watches. They needed to be a thing of beauty, but one should still be able to read time with ease. Two rather sober hands, nothing more than blued sticks, do that job, together with twelve hour markers. While eight of them are nothing more than pad-printed stripes in the same fashion as the hands, the remaining four are bars made from white gold, adding another layer of depth to the dial. 
For Piaget, reference 908 was very important in the 1970s. One could see it as one of the cornerstones of their collection. A great deal of different versions were made that all varied in some way or another. However, that doesn't make them common at all. In fact, finding another one just like this one might prove to be quite a challenge as in 1974, the brand had a staggering 1,200 different models in its collection, with a total production of just above 10,000 pieces per year. Do we need to do the math for you?
Thin is in at Piaget, since 1957
Since Bulgari picked up the glove, thin is in again. At Piaget, they started with this already in 1957 when they launched caliber 9P. At the time, this 2mm thick manual wind movement pushed the boundaries of what was possible such a great deal forward, that many visitors of the Basel Watch Fair, where it was introduced, thought that Piaget was pranking them. They were obviously not, and caliber 9P became an essential movement in Piaget's collection as well as one of the most important manual wind movements ever created.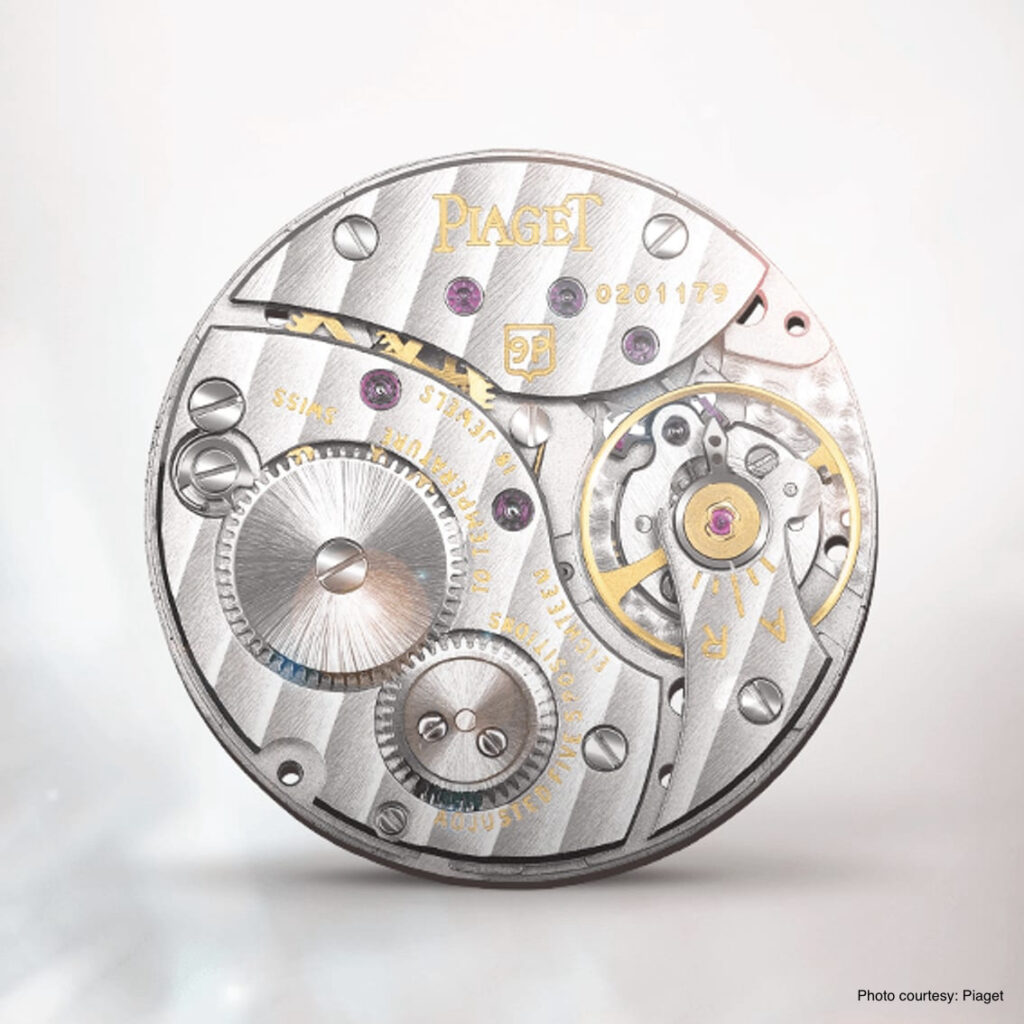 For Piaget, it wasn't only about thinness. The proper decoration of the movement was equally important. While it remains carefully hidden behind the white gold caseback, Caliber 9P is decorated with Geneva striping, a circulair-grained mainplate, and bridges that are hand-drawn and beveled. While it may be a pity that it is a watchmaker's privilege to enjoy these decorations, there is also a nice sense of understatement to it. Knowing that it is there is enough, while you enjoy the assuring sensation of a flat white gold caseback on your wrist.
A 2mm thick movement in a vintage watch sounds fragile. While one should respect the age of this reference 908 C4, nothing makes it happier than to explore the world once more. One of the reasons why caliber 9P became such a success is that the movement is surprisingly robust. Other than water, as the watch is not water-resistant, no particular circumstances need to be avoided when wearing this Piaget.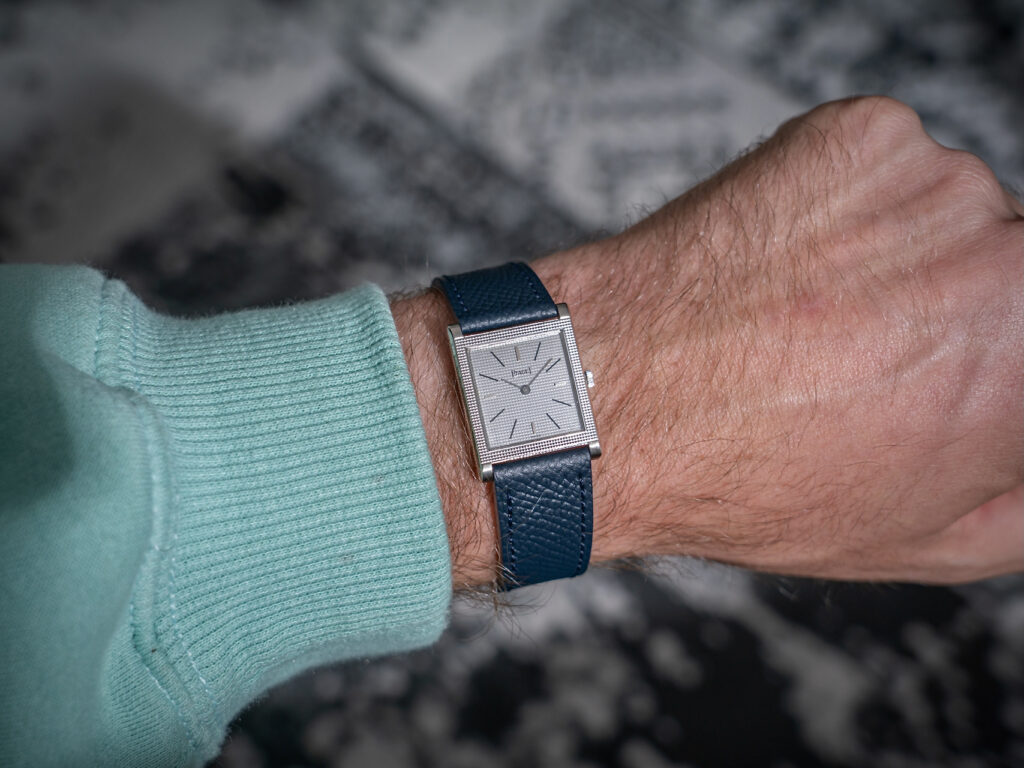 What is actually quite addictive is its size. Bigger is not always better, as smaller watches often wear far more comfortable. While Piaget never aimed to make the reference 908 4C as thin as possible but rather well proportioned, it is still slender. This makes that with the right thickness strap, it flows consistently from leather to precious metal to leather again.  As smaller watches show more of the strap, they also play a more prominent role in the overall look. Because of the white, precious metal of the case and the restrained look of the dial, this Piaget can handle nearly any color. It also puts an end to the myth that larger watches are more masculine, as the Clous de Paris give this Piaget an almost industrial touch that packs quite a punch despite its modest size. 
It is quite funny to realize that today the reference 908 C4 is meant for the same clientele as for which Piaget made it in the 1970s in the first place: men who don't need a guide to tell them what is well made and looks good, and have no problem when this choice makes them stand out.
More on fine, Swiss dress watches can be read at www.troisaneaux.com