WWH Editorial Shoot – Omega Speedmaster 'TinTin'
Welcome to another WWH Editorial Shoot, this time we took the Tintin Speedy out for a morning on the town and what a watch it is! This Speedy really has everything going for it. It's a chronograph, it's manual wound, has great heritage and a very cool dial.. and well.. it's a Speedmaster!
We started our shoot in front of the oldest vintage toy store in Haarlem, the owner is a big fan of the old TinTin comic books and everything related to the character – We just had to snap a photo with that big red and white checkered rocket that's in the store window. This shop is absolutely worth a visit if you're looking for some cool, TinTin memorabilia for your mancave or office.
The dial is what really makes or breaks a watch; is a phrase often heard. That's definitely true with this Speedmaster, apart from that dial and the red details on the caseback, this Speedmaster is pretty much like the all black dial version of the watch. However, those vibrant red and white details on the outer edge of the dial make this a very original and truly stunning Speedmaster! It's also a very recognizable watch to any watch-aficionado, during Coffee and while snapping the photo above, two guys complimented us on this magnificent Speedy "hey, awesome TinTin guys"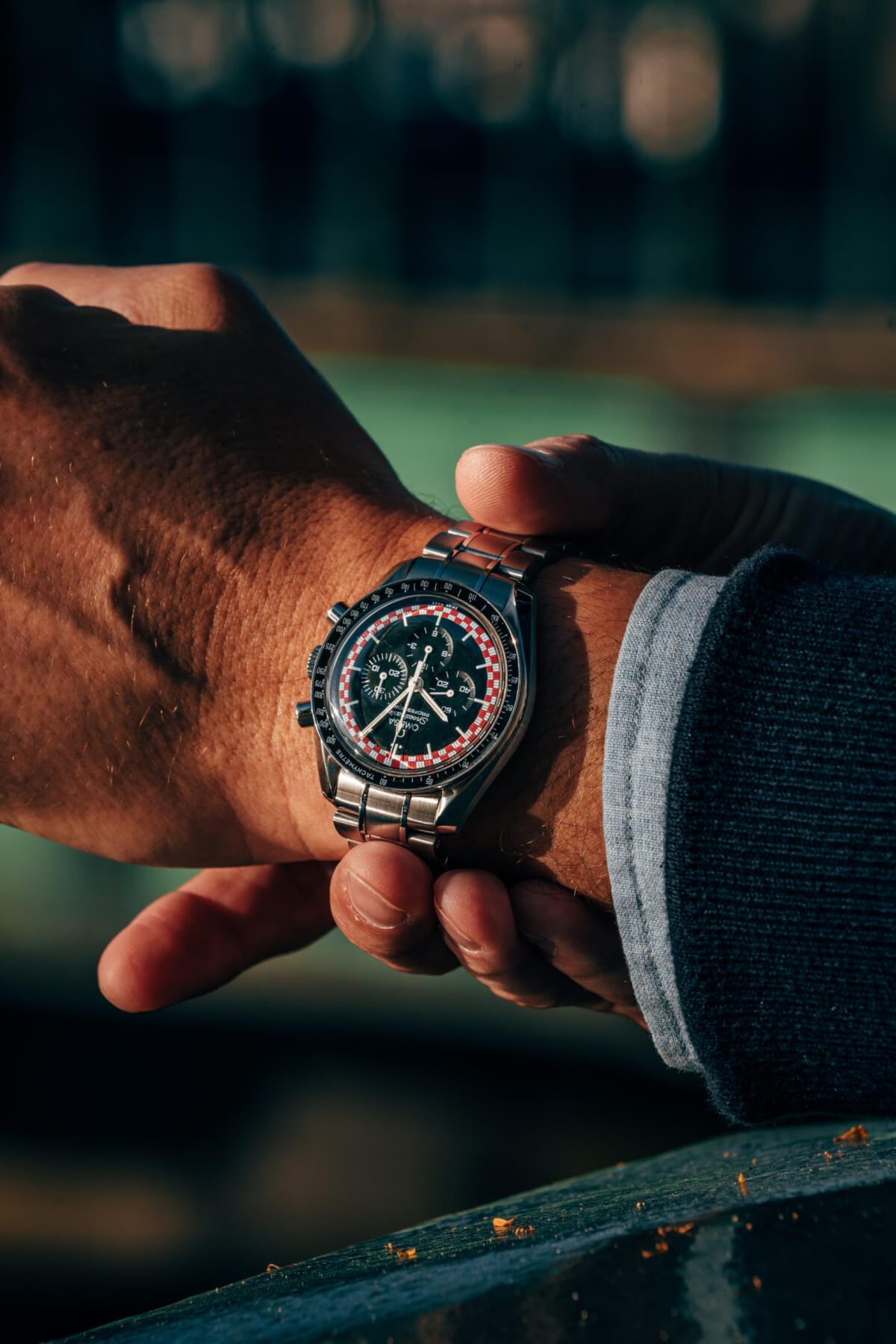 When the sun hits the TinTin's dial the colours seem to explode and the watch really comes to life. It's even more vibrant now and the black paint on the dial displays a matte finish while the sub-dials for the chronograph show a wonderful depth to them, from certain angles this Speedmaster really is reminiscent of those vintage Racing Dial Speedies from the 1970's.
Even though the Omega Speedmaster measures 42mm in diameter and has those protruding pushers, the hight of the watch is very decent so it will fit snugly under your dress shirt – Nothing more annoying then your watch getting caught on your sleeve.. (first world problems though).
Without hardly any effort, the TinTin makes for the best wrist shots. Everything on the watch matches perfectly and seems to be made just for this reference alone. Even the modern, more chunky bracelet seems right at home with this watch – even more so then with any other modern Speedmaster (imho). Personally I'm not a huge fan of Omega's modern steel bracelet, but with the TinTin Speedmaster it works extremely well! Apart from my opinion, this really is a very comfortable bracelet for daily wear.
The TinTin is seen here besides one of his colorful, horlogical neighbors. These type of watches with their playful and vibrant colors look even better during these Spring and Summer seasons – They make you smile a little more, everytime the sun hits a dial or an insert.. (any watchnerd will know what I'm talking about). More info on this Omega Speedmaster, aka the 'TinTin' Speedy can be found right here.