Diving Into The Rolex Submariner 5513
Reference 5513 holds a special place in the history of the Submariner. It can be seen as the watch that cemented its reputation, turning a great diving watch into an icon. Rolex launched the ref.5513 in 1962, and it stayed in production for about 27 years. This is almost unheard of in an industry ruled by trends, underscoring this Submariner's exceptional qualities. While this wasn't the first diving watch ever produced, not even the first Submariner, it brought together a lot of hallmarks that we now associate with this category in an even more effective way than its predecessors.
The ref.5513 benefits from a very functional design that gives it a clean and focused appearance. It lacks a date function, resulting in a beautiful symmetry on the dial, whereas the typical 'Mercedes' hour hand adds a dash of character. The writing on the dial is minimalistic, for a Rolex, and in part, this was also because it was powered by movements, caliber 1520 and 1530, that were not Chronometer-certified. This is not something to morn, as they are your typical Rolex workhorse movements, utterly dependable and precise, with only a few different parts that set them apart from their COSC-certified siblings.
The fact that the Submariner ref.5513 is so pure in appearance is one reason why it stayed in production so long, but its popularity was also helped by pop culture, as it appeared on the wrist of Roger Moore, playing James Bond. This not only helped the Submariner gain traction outside the world of (professional) divers but also established that it was a watch that could very well be worn with formal attire. While this is common today, wearing a (then) large, purposely built timepiece was unheard of.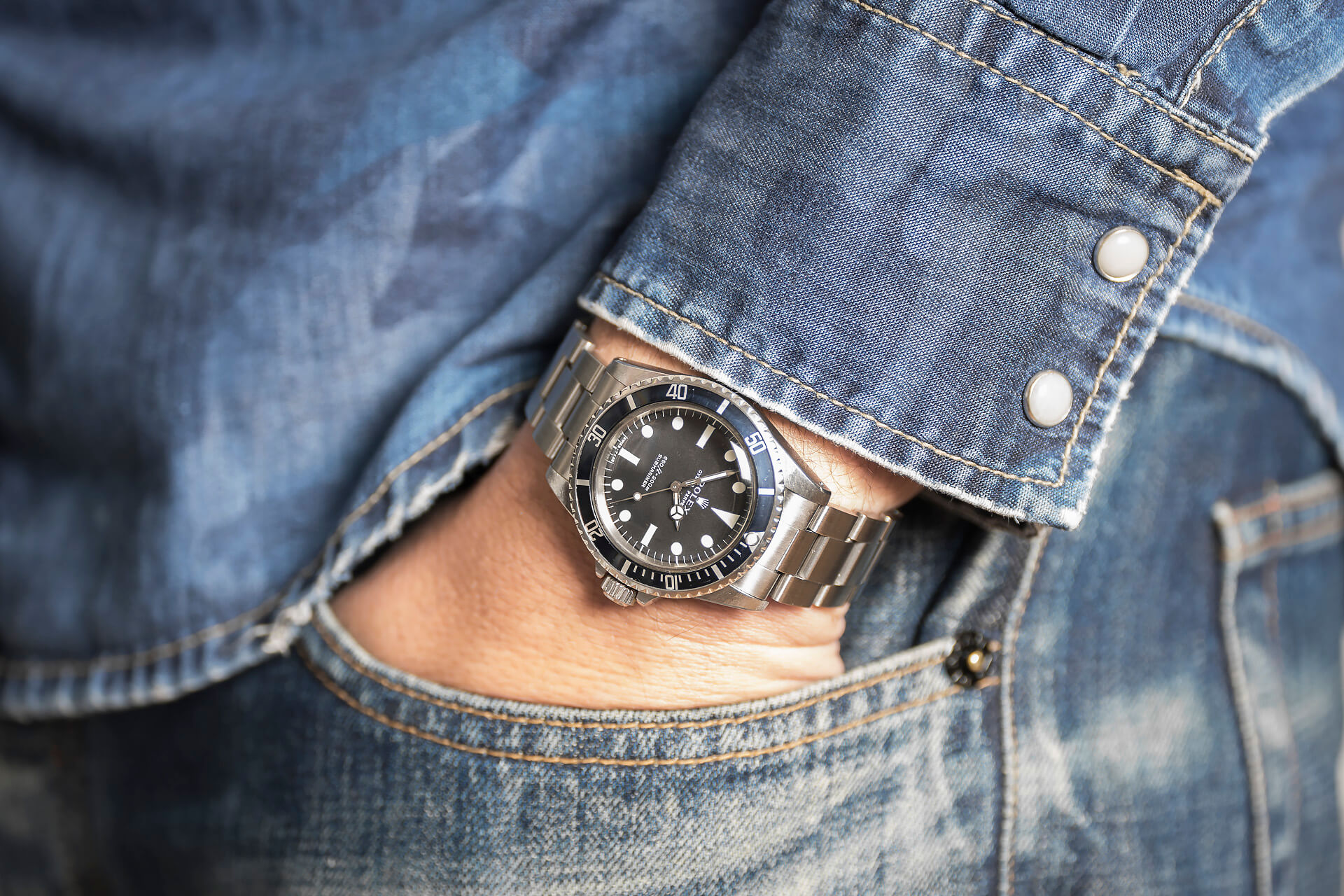 While Rolex did tweak the ref.5513 over the course of the 27 years that it was in production, many things remained the same. It was the last Submariner to be fitted with acrylic glass. While this scratches more easily than sapphire, it also breaks the light differently in a softer tone. This further enhances the vintage appearance of the Submariner ref.5513. It is also interesting to note that not all details are not what you would think they are. While these days, a divers' watch is only accepted as such when it has a uni-directional bezel, the ref.5513 features a bi-directional one. It is one of the characteristics which sets this Submariner apart from its more modern siblings and makes it a very desirable vintage Rolex to own.