WWH featured on Videoland's 'Out Of The Box'
In March of 2019 WatchWorks Haarlem dropped a collaboration between ourself and collector, sneakerhead and graphic designer @careaux. We launched our Superhero Watch-Prints in A3 size in Careaux's distinctive Pop-Art style of design. Now, Videoland and host, Valerio Zeno interviewed Careaux about her famous designs, her work for brands such as Fila, Puma and Filling Pieces and her story in general. During the interview she was asked about those very cool watch prints in the background 🙂 Careaux explained about her collaboration with WWH and how this came to be. The 'Out Of The Box' series can now be seen on Videoland and is available only via a subscription.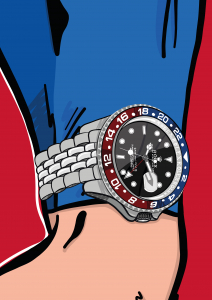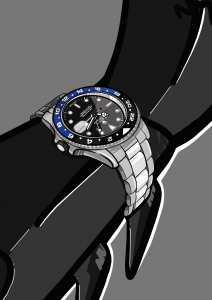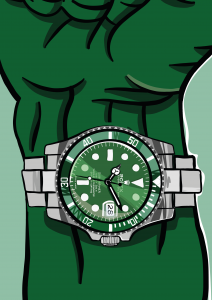 Our take on Superman, Batman and The Hulk, Superheroes for the wrist. In-house designed but digitally executed by Careaux.
Since the Videoland channel and service is heavenly secured, it's impossible to make a screen shot or screen video, hence this shot of a TV… Oh well, you guys get the idea, right? Here Careaux can be seen in the early stages of digitally drawing up The Hulk. On her wrist is a two-tone Rolex Date from the 1980's.
One more shot from the TV, please go and watch the 'Out of the Box' series live, all episodes are very cool and explore the minds of collectors and creatives. The latest episode with Careaux will give you a bit more insight in the design and drawing process of our watch art.